Psychology: HIV & Hepatitis C Coinfection
Hi…my name is Debbie and my hubby Jeff has Hep C and HIV. He was diagnosed in Feb 1997. As soon as we found out our primary care physician sent him to a liver specialist. This "specialist" ordered a liver biopsy which showed cirrhosis. As soon as the biopsy results were in he recommended that Jeff take the Interferon. So he sent him to the lab for more blood work and before those results were even back Jeff started on Interferon. In my mind I had no idea what Jeff was going to do. This was one of the trying moments of my life. I was on lithium at the time when this whole hep c thing broad sided me.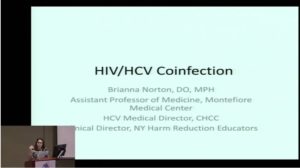 About that same time I started searching the Internet for information on Hep C. The first site I found was "Planet Maggie". I printed 72 pages of Hep C information that day and when I went back to the site …it was gone!! I was crushed!! I sent her an e mail and she explained that she had had the site for 3 years and had to close it because of her employer. I didn't know where else to turn. I was new to AOL and this Internet stuff and was seriously lost. I asked around and typed in all the "appropriate" keywords, but wasn't getting anywhere. Somehow , quite by accident, I stumbled on a message board on AOL for "infectious and contagious" diseases and low and behold…Hep C was listed. I thank God everyday for that day. I read over 300 posts that day…I was in heaven, happy and sad all at the same time. These were real live people out there having the same concerns and questions that I was having and someone was helping them. I finally got brave one day and posted a message of my own. My God the e mail started coming in , folks sending me information, web sites, friendly letters of support, a couple of weekly chat groups. I was amazed. It had taken me weeks to find these people and because of these people we now felt a little better in our fight with this Dragon. We at least had some information and that seemed to be more than our "1st" doctor had to offer. Sometimes I felt reassured by the medical establishment, but my depression got me down. I don't know what to do with my mental health and hepatitis C and later HIV at the same time.
We fired that 1st doctor and found another. Jeff continued the Interferon for 3 ½ months. He suffered the "usual" side effects plus some. At the end he was having a hard time walking because of pains in his legs and feet. This was no "flu" symptom. His WBC RBC and Platelets were almost off the board. He fainted and had bloody bowel movements. They put him in the hospital and did a colonoscopy. Found out he had "Pseudomembrane colitis". Some information I gathered from the Web says this is caused by "nearly all antibiotics"…since he had not been on any antibiotics, we can only assume the Interferon may have helped this condition along. (Riba, by the way is listed as a cause of this) Finally on 08/21/97 after a PCR came back "positive" Jeff decided on his own to quit the Interferon as it was "interfering with life". We left several messages for the new doc to call us and 3 weeks after Jeff had stopped Interferon on his own, the doc finally called an left a message on our phone for him to stop as he was a "non responder". Well…his body was responding to it…everything was going to hell. It might not have been curing the virus but it was sure playing havoc with the rest of him. Getting him treated was the hardest thing. Later on we had to deal with coinfection of both HIV and hepatitis C.
Now Jeff is on herbs only. We realize that the virus is still there and the herbs probably aren't gonna "cure" it. But he is a human being again. He has no more "flu-like" symptoms, no more bloody bowel movements, his WBC RBC and Platelets are coming back to normal and he can walk and talk again. We're willing to take our chances. Sometimes its the "quality" of life that counts. I want to thank all my "on line" friends for all the information and support they have provided. My special thanks to Kevin (HEPPER) for making this site available and for providing a daily chat room that we can all enjoy. I have attached links to all my "favorite places" that have helped us in this fight with the Dragon and hope that you to will find the love and support out there that I did. One last thing…. we can't be sure how Jeff got it. Whether from "growing up in the sixties" or from a blood transfusion that he received in 1993, when they were "suppose" to be testing…we don't care anymore "where he got it"….if we knew…."WE WOULD GIVE IT BACK!!!!
Huggs ~~~~~~deb